Travel Saving tips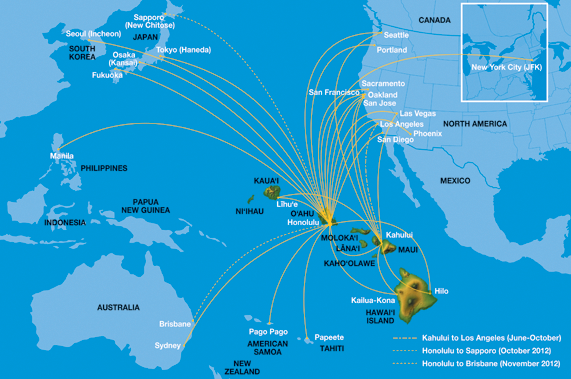 Aunty's favorite airline to fly to Vegas or California is Hawaiian Air.  I save a lot of money using their Hawaiian Miles program.  Their website is a breeze to use, and once you become a Hawaiian Miles member (free!), you will have more options to use a combination of miles one way, and dollars for the other way.  You can use your miles to upgrade to first class – the best way to fly – adjustable foot rests, leather seats, and excellent food, yum yum.  I get the Hawaiian Miles VISA cards – currently they are running a promotion – 30,000 miles off the bat, and a 25% discount for a roundtrip trans Pacific flight for you and a companion.  Such a deal!  Caveat:  if you are going to be applying for a loan, hold off getting a new credit card because it can sometimes ding your credit scores for a bit.
Economical way to book Vegas hotels and shows
Vegas.com is an online booking service that I have used sometimes to book hotels at great rates, and also those fantastic Vegas shows at either a discount or upgrade.  To get an even BETTER deal, buy the Vegas.com gift cards at Costco (seasonal) – you automatically get 20% off because they sell $100 gift cards for $79.95!  Such a deal.  Love it!  The only drawback is that [usually] once you book, you're booked. [Update, Costco doesn't carry Vegas.com cards anymore – hope they do again in the future!]
Deals on Wheels
Cheapest car rentals:  Costco.com.  Yup, good old Costco again.  On the main menu, go to "Travel", then chose car rental.  You enter the dates and city you want to rent a car, and you will have several different car rental agencies, such as Dollar, Budget, Enterprise, etc.  It is kind of a chore to go through each menu of each dealer, but it is worth it.  Sometimes Budget will have a much lower price on a mini SUV than Dollar, or Enterprise will have a better deal by far.  Take some time and compare.  It really is worth the savings.  You can also get good deals by going to each rental agency's website and putting in the codes for AAA, AARP, or the ones from Entertainment books.
Instead of spending money
Bring an empty water bottle in your carry on bag.  I have discovered the Evian water bottle top to be superior to all others.  You simply flip the top and suck on the mouthpiece thingee.  Beats unscrewing the top to drink, or using your hand to lift up the mouthpiece thingee.  If more than one of you is traveling, then buy a big bottle of water in the airport and fill up the smaller empty bottles for each passenger.  You can also fill up in the lounges (if you have lounge privileges) or from the water fountains in the airport.  Sometimes I ask for a cup of water on the airplane and use that to fill my bottle.
Nikken also has a personal drinking bottle with a filter – if you have one of these with you while traveling to cities where the faucet water is yucky, this will save you from buying bottled water to drink.  I got mine from pal Clare, a Nikken distributor.
*Any miles from some cards and also Marriot can transfer into your Hawaiian Miles mileage account. This includes American Express, and even some of the other airlines such as United, Continental. Call Hawaiian Airlines service desk to find out if your points and/or miles from other companies are transferrable into your account. Great tip from fellow passenger Jeff sitting next to me on a flight to LAX.
About The Author
Related posts