The Lone Fisherman Strikes Tonight
Uncle is in Auntie Teresa's Fishing Club – a VERY socially oriented club of "fisher" people with our cousin Teresa and friends.  I put quotes around "fisher" because sometimes fishing is not the end game or plan.  Sometimes, instead of choosing a spot based on being good grounds for catching fish – comfort, bathroom accessibility, ease of path and parking win out after a few sips of good wine and pupus.
Each "fisher" puts in $1 for the evening's pool – and the person who catches the biggest fish gets to scoop the pot.  At the very first ATFC (Auntie Teresa's Fishing Club) gathering, cousin Teresa actually won – catching a 2″ opu which probably weighed 1 ounce.
For Uncle, who is an avid fisherman with poles, reels, tabis, lead, hooks, and bait buckets taking up precious real estate near our front door, NOT catching fish and being beat with a 2″ opu was a blow to his "I'm a FISHERMAN" ego.  He could not stop shaking his head that whole week.
So, tonight, just before 7:30 pm, Uncle had me drop him off in Waikiki (secret spot) all by himself since Auntie Teresa's Fishing Club members were doing their own non-fishing activities.
When I picked him up 3 hours later, Hana pa'a!!!  Sweetest words to a fisherman!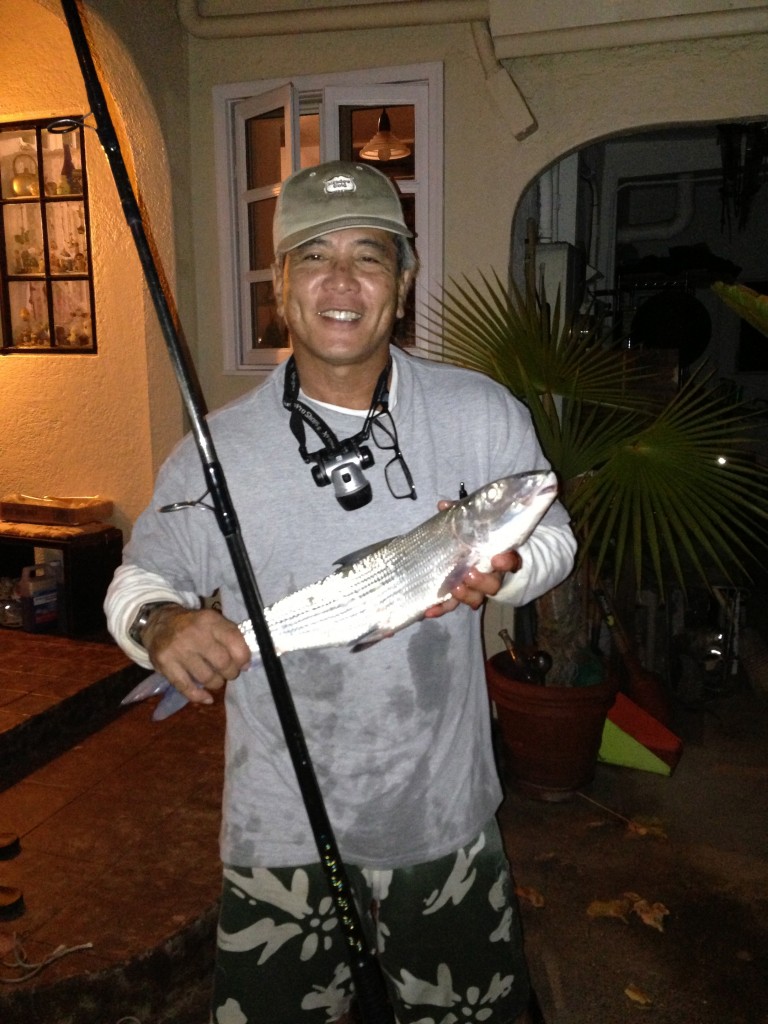 Aunty will make fish cake after Uncle cleans and spoons the meat.  Ono!!!  (yummy!!!)
This fish will give Uncle bragging rights when ATFC meets for their next dinner, potluck, beer/wine pupus fishing expedition.   Even though this catch does not count as a ATFC win since Uncle struck out alone and unsupervised, it was a long awaited win for Uncle, and possibly (since there are only 16 days left in the year) the biggest fish of the year.
Congrats Uncle!
About The Author
Related posts