When Aunty met Jeff Olson
On August 18, 2012, Jeff Olson came to speak at the Convention Center to a room packed with Nerium Brand Partners.  He was awesome.  He spoke rapidly, almost staccato-like with a shortness of letters (i.e. "being" had no "g" and was "be-in") and so much non-stop energy – that being with him was like having the caffeine buzz from a cup ofStarbucks coffee.
He graciously signed his book, The Slight Edge, for anyone who brought their copy (this book is included in our signup boxes) and took pictures with anyone who wanted one.  He was attentive to each person, but also knew how to disengage from the time hoggers.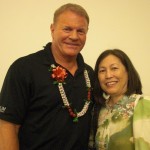 Aunty took a picture with him, and then, very nervously and with trepidation, Aunty asked a favor of Jeff Olson.
If you know Aunty, I am always jotting down notes and things that pop into my head about this or that and improvements, suggestions, feedback, etc.  Being in Nerium for 2 months, there were a few things that I wanted to convey to the company but did not really know how.  Little things like having a graphic tree to show the structure of our teams in addition to the listing format, or correcting spelling errors in the FAQ section of our websites.  Bigger things like providing opportunities for new brand partners to learn how to form business entities and run their profitable Nerium business like a business in order to take advantage of their income growth and tax advantages.  [note to Aunty:  do a page on business entities for Nerium brand partners.]
I was told by some of the upper Hawaii echelon that giving Jeff Olson any communications was inappropriate because of who he was and how he is too busy to look at notes from the thousands of brand partners out there.  Instead, I was to give it to them or write to customer service.  Talk about deflating my balloon….
However, Aunty had another mentored voice in her head that said – just do it.  Ask the man for the favor of his consideration.
So, with my heart in my throat and paper in my hand, I asked Jeff Olson if he wouldn't mind looking over a page of my notes of feedback and suggestions, half expecting that he would blow me off and tell me to call customer service.
Much to my delight and relief, he looked me in the eye(s) and said, "Sure, I would love to read this, feedback and suggestions are very important to me!"  He reached out, accepted my folded page, and then said that he would put in next to his room key so he would have it with him to read when he got back to his room that night.
Wow.
Aunty went from being a scared little company brand partner to feeling on top of the world in 2 seconds flat.
Jeff Olson – the man who founded Nerium International and built up multi million dollar companies – gave Aunty validation, respect, and a true sense of "we are in this together" with his simple and sincere acceptance of Aunty's 2¢.
Aunty now has her own definition of greatness.  Maybe it has already been written, but here goes…
A great person is one who makes others greater.
I am really honored and glad to be a part of Jeff Olson's Last Run.  Aunty was already a Neriumite, but now Aunty is a rah rah boom boom believer of the company and the man who leads the company.
Nerium is a great company with a great product.  Soon, it will have more products.  In a recent video, Jeff Olson shared his 20/20 vision, looking forward 7 years to 2020 and what the path for the company.
He mentioned 4 ways that Nerium International will grow:  1) increase product line, 2) have different product variations for different countries, 3) expand footprint to Far East and Europe, 4) do better, be better in what we are doing now with better marketing tools and training.  Wow, laulau.
If you have time, please take a look at Jeff Olson's 20/20 vision:
URL link:  20/20 Vision of Jeff Olson
video:


About The Author
Related posts