Whole Foods is da Bomb!
Way back when, in Kahala Mall, Star Supermarket used to be located where Whole Foods is today.  It was a good supermarket but not too busy.  So when Yen King (now dba Maple Garden with great lunch buffets) and Star Market got pushed out and Whole Foods came in, Aunty was a little huhu (mad) just because it was a change of out with the old and in with the new.
However, the Whole Foods move in turned out to be a great change for the better.  They have healthy alternatives and quality choices.  Some things are quite expensive, but some things aren't.  The kids love Taco Tuesday because the fresh little tacos are only $1.  Aunty likes their flower bouquets, guacamole, organic chicken and beef, and deli section.
Great balls of grapes!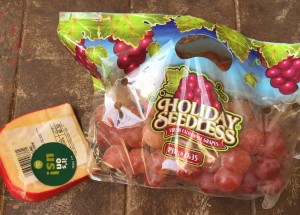 During the holiday season, Whole Foods brings in THE most wonderful Holiday Grapes.  Aunty doesn't even like grapes, but these are seedless, big, sweet, and just right juicy!  Okay, they are kinda expensive at $4.99/lb but they sometimes go on sale during the season and they do keep fresh for a long time in the refrigerator.  The store would have them paired with a nice semi hard creamy cheese called Parrano, or something sounding like that.
Us local, especially the ones that graduated from public schools (shout out to Kaimuki High, rah rah rah!) don't really eat cheese other than cheese sandwich [side note:  Aunty used to love to eat sandwiches with Kraft American cheese slices and Halm's kim chee] or on top of spaghetti BUT one day, Aunty was watching a movie about a rat who wanted to be a chef.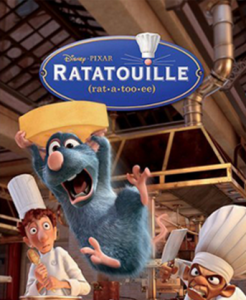 Remy (the rat) took a bite of a fruit, and a single sweet note played, "bing!"  Then, he took a bite of some cheese, and a chord of music played, "tadaaam!"  He next went on to take a bite of fruit with a bite of cheese, and suddenly, he was surrounded with a swirling symphony of elegant music, timpani, allegro, strings and all!  The combination made beautiful music.
Hmmm.  Fruit and cheese?  Aunty used to think that was weird but was willing to try because of Remy the Rat.  Our refrigerator had Rainier cherries and in the butter compartment, some Laughing Cow cheese wedges.  Aunty took a bite of the cherries, yum!  Then a bite of the cheese, yum yum!  Then, a bite of cherry and a bite of cheese, and O…M…G… it really was a symphony!  From then on, Aunty felt so cultured and acted divine, you know what I mean, daahling?
Okay, okay, so back to Whole Foods.
Aunty was so happy to see those yummy Holiday Grapes even though they weren't on sale.  But, waaaaah…. where was the cheese?  If the cheese isn't next to the grapes, how would Aunty know which cheese matches the grapes?!?
Hunting around, looking at all the different cheese choices was a bit intimidating for the formerly divine Aunty.  Then, she spied a Whole Foods worker.  Andrew.  [side note:  Andrew was a really good looking young man and come to find out he was also hapa, of course.]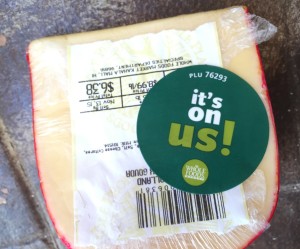 Aunty explained her dilemma about cheese illiteracy and Andrew must be a cheese connoisseur because he showed several options, including finding the Parrano cheese, which was kinda expensive and in little wedges.  He tactfully pointed out a "very nice Gouda (who dat?)" and it was actually kinda cheap, especially compared to the other cheeses.  Aunty chose that one as da winnah, and then Andrew whips out a sticker that says "it's on US!" and attaches it to Aunty's cheese!  How cool is that!?!
It is very cool.  The cashier rang up the purchase and then adjusted it and Aunty's cheese was free!!
It must be nice to work for a place that allows good looking workers to give away random acts of kindness.  It may be a bit late, but Aunty would like to say, "Welcome to the neighborhood, Whole Foods.  It is very nice to have you here!!"
Recent update:   Aunty went back for more Holiday grapes and couldn't find them.  Kami came to Aunty's rescue and brought out a case from the back and even shared with Aunty about summer grapes called "cotton candy".  She said they were super popular and tasted like cotton candy!?!  So, when summer comes next year, Aunty is going to try.
Anywho, shout out to Kami – ANOTHER terrific clerk at Kahala Whole Foods! 
About The Author
Related posts