Why the Hydro Flask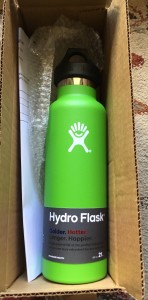 EVERYbody seems to have a Hydro Flask bottle.  Big ones, little ones, fat ones, skinny ones.  Aunty couldn't understand what the hype was about and figured that it was just a fad.  Plus, they were rather pricey – $23 for the small ones and $30+ for the bigger ones!
Instead of a Hydro Flask, Aunty had a cute slim aluminum thermos looking bottle with a screw on lid and screw on cup.  This was taken to seminars and outings if water was needed and it served its purpose, though it would leak if it wasn't upright (gross when it was in Aunty's handbags) and ice water would cause it to sweat.
Truth to tell, Aunty thought the Hydro Flasks were not very stylish, and the colors were kinda ugly, BUT Aunty's cool looking thermos was not doing its job and Aunty was getting tired of wet bag interiors.
So, like footwear, function and durability won out over looks, and Aunty bought a slim Hydro Flask that had a screw on cap with a hole for her finger to carry it around, in a zen green color.  It kept cold water cold, without leaking, at all!  Hmmm.  Aunty joined the Hydro Flask movement and the kids thought mom was cool.
After a few months, though, it seemed like the ice cold water would become warm before the day was up.  The youngest kid said to return it and get a new one.  Whaaatttt?  You sure?  Yep, for sure, and it was easy to do by registering and then letting them know wassup with the flask on their website.
Soon after, Aunty received an email from info@hydroflask.com.  This had instructions and a case number for the return.  Aunty carefully packed the zen green Hydro Flask in a box with paper padding after writing the case number on the bottle (with a Sharpie pen) and also requested any color if possible (zen green was not such a great color, in Aunty's opinion).
Taking it to the post office for mailing, Dwayne (super nice counter clerk at the Kahala post office) weighed the box (over 13 ozs.) and suggested that I ship it without a box, making it much lighter and cheaper to mail.  Good idea, and rather surprising that this could be done!
A few days later, a box arrived for Aunty, with a spanking brand new Hydro Flask bottle, a new screw on cap, and in a nice bright kiwi green color!
Pretty neat, huh!  They have shown excellent customer service backing up an excellent product (kind of like the Apple Store).  Recently Aunty bought a short little silver looking Hydro Flask for cold water sips during the day.  It may not be stylish, but it IS cute!  Why Hydro Flask?  They made a believer and a loyal follower out of Aunty.
About The Author
Related posts