Yellow for Yellowing Teeth?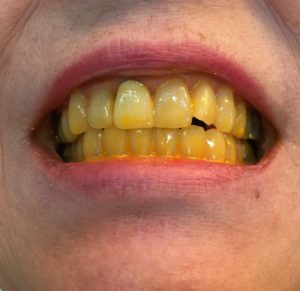 Aunty's blog friend Kay of Musings recently posted about whitening her teeth with Crest Whitestrips.  It worked beautifully – Kay's teeth became movie star white – but had a few cautionary issues with sensitivity and erosion.
Aunty used to use whitening strips, or the "trays" that are formed as troughs to fit and soak uppers and lowers in bleach solutions, but has recently opted for a cheaper, possibly safer and more natural solution that really works, though not to the dazzling whiteness of movie stars.
It is a very yellow paste made with 1 TBS coconut oil, 1 tsp curcumin (also known as turmeric), and 2 drops of peppermint oil (optional).  This short video from the good folks at 7 Nutrition shows how it is done.  Aunty takes a capsule of curcumin on a daily basis, and 2 capsules = approx 1 tsp when opened and measured.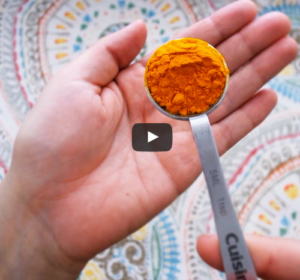 After mixing thoroughly in a small ceramic dish, Aunty stores the paste in a cute little Chinese mustard container with a cover on her bathroom counter.  This lasts for weeks.
Use a Q-tip (rather than a toothbrush) to dip into the paste and rub or dab onto the front teeth surface.  Keep your lips open and away from your yellow teeth.  You will look wild and weird – but that's okay.  We do what we must for looking good.  The longer you can do this, the better.  Try for at least 2 minutes.  Be aware that curcumin can stain your countertops, towels, and clothing so be neat and apply just enough.
Then, wipe off as much as possible with toilet paper or paper towel pieces, and throw in the trash.  Don't rinse in the sink before wiping or dispose of the paper in the toilet or you will have oily yellow ringed sink bowls to clean.  Optional to brush or rinse your mouth after wiping.
Do daily for a couple of weeks, and then less often. Slowly but surely, your smile will be brighter and brighter!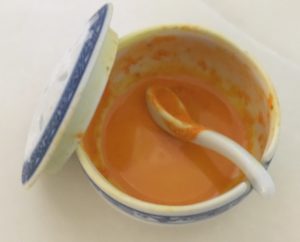 About The Author
Related posts